I'm not going to say this potato salad is the best…even though I really do think it is…because I know family holiday recipes hold a special spot in people's hearts.  That said, if you are looking to make some potato salad for the 4th and want to change up your old standard, or maybe ditch the store bought, here's one that my hubby and I have tweaked and tweaked over the years.
I've learned a lot about cooking in my 10 years of wifedom.  I came to the altar knowing how to scramble an egg and make spaghetti.  My dear husband has coached and guided me to a much better place in the kitchen.  One of my favorite new husband quotes is, "If I know how to make a dish better, why wouldn't I tell you?  Am I just supposed to eat bad hotdish for the rest of my life???"  Oh my!!  That didn't go over so well back then…but he was right.  And I am better for it.  🙂
One of the most important things I've learned about cooking is that a lot of taste comes from the little tweaks you do.  You don't have to be exact on a lot of things.  Throw in something extra you think sounds good and see what happens.  You will have some flops, but I think in the long run you will come out way ahead!  Your skills will expand, taste will explode, and I think you will enjoy cooking more.  So use that theory with this recipe.  Do you like lots of eggs in your potato salad?  Throw a few more in!  Don't like a sweet note in your potato salad?  Skip the sugar.  How about a little heat?  Add a smidge of cayenne pepper.  Below is my recipe.  
Preheat the oven to 425 degrees.
Cook your bacon.  8 slices-ish.  My method is on a cookie rack placed in a dark jelly roll pan (12″x17″ pan with 1″ sides).  Bake in your 425 degree oven until done.  About 20  minutes.  Check it often once you start to smell it.  Remove bacon and remove most of the grease from pan.  Leave a little for your potatoes.
Chop up about 1-1 1/2 pounds yukon gold and baby reds, leaving the skins on.  Or try some  gorgeous purple ones!  A variety is kind of fun.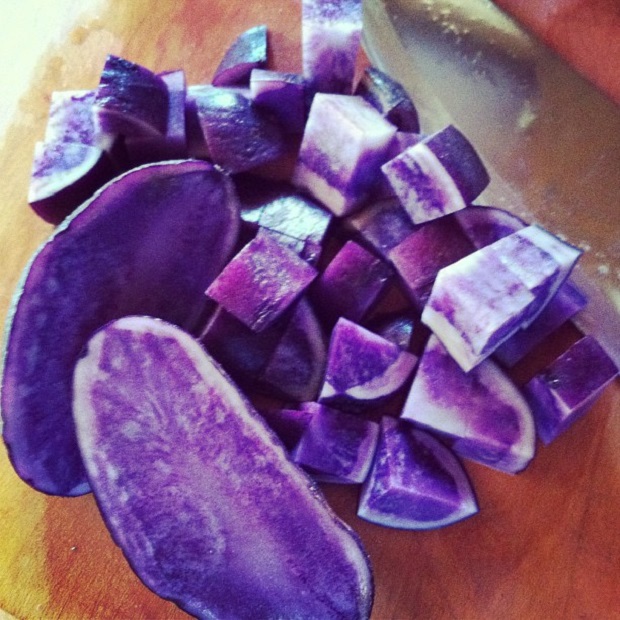 Place potatoes in your bacon infused pan, add some salt and pepper.  I also add some dry thyme at this step.  Do what you think would taste good.  Bottom line, your potatoes are the main star in this dish so add some good flavor here.  Cook your potatoes in the 425 degree oven for about 25 ish minutes or until tender and browned.  (One of the reasons you use a dark pan and a hot oven is to get a nice brown crisp on the potatoes.  Yum on taste, yum on texture.)



Hard boil 6-8 eggs.  My method:  In a deep saucepan, cover eggs with cold water.  Put on stovetop and heat until boiling.  Once boiling, remove from stove, keep covered for 18 minutes.  Dump water and run under cold water.  Peel.  Chop.
Chop 2 stalks celery.
Chop 2 green onions.  I use green onions since it has a milder onion flavor.  Regular onion kind of punches you in the face.  And then punches all the people you talk to in the face.  Go green onions.  Trust me.  (Green and white parts…it's all good!)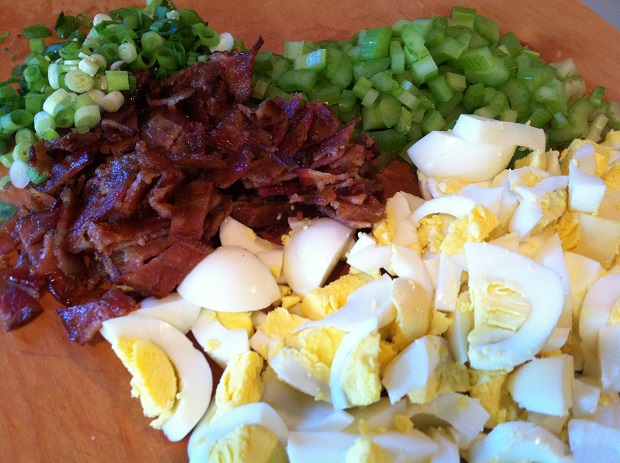 Make Dressing:
1-ish cup mayo. (I'm a mayo girl. I'm not sure what miracle whip would do but I think it would be fine???)
1 Tablespoon mustard.  (I'm a big fan of Grey Poupon's "Mild & Creamy Dijon" made with white wine.)
2 teaspoons sugar
1 teaspoon salt
1/4 teaspoon pepper
2 Tablespoons vinegar
You must do a dressing taste test now.  I know that sounds a little gross, but you should.  Dressing exactly how you want it is what makes the dish.
Place all your ingredients together in a large bowl and add dressing.  Don't add all the dressing at once!!  You can always add more if you need it.  Not a bad idea to save a little too since the potatoes will absorb a bit of the dressing before you serve it.  I usually add my dressing just a couple hours before serving so that all the flavors have a chance to "marry" but things don't get soggy or dry.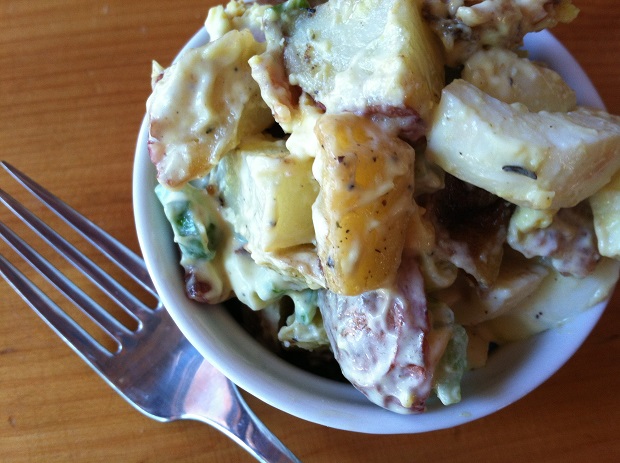 This is such a classic summer dish–perfect for a 4th of July gathering!! Happy summer to you all!!