I worked in a quilt shop right after college and absolutely loved it!  I started designing quilting patterns there and have kept my fingers dabbling in it ever since.  There is something about quilts that speaks to my heart.  They tie us to family members past and present, remind us of warm summer breezes and cold winter nights, apple pies and hot chocolate.  We snuggle under them with those who hold our hearts and we breathe deeply into them as we try to pull memories from those we've lost.  There is just something about a quilt.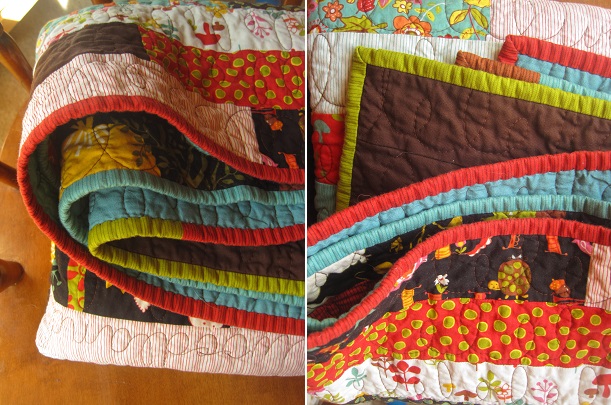 Whether you have sewn for years or are just beginning to try your hand at it, you should really make a quilt!  They can be as easy or as difficult as you want.  Some people follow precise rules when quilting, and others throw all the rules out the window.  I don't care how you do it!  Maybe your seams will all line up exactly.  Or maybe you will laugh (or yell!) at yourself as you realize you are almost 2 inches off in places.  (Ask me how I know…)  Whatever camp you fall in, I hope you make a quilt one day.  They are life treasures.  Something to pass on.  A gift to you and your family.
Here's a pattern I designed called "Urban Twigs."  It's a playful quilt that begs to be used and washed over and over again. Wrinkly goodness, oh my!  It is gender neutral and has very basic piecing.  The pattern uses what the quilting industry calls a "jelly roll."  This is a package of pre-cut 2 1/2″ strips that uses fabric from every fabric in a designer's collection.  Jelly rolls are fantastic because they allow you to have a little piece of so many different fabrics.  Perfect for when you can't make up your mind.  That said, if you don't want to use a jelly roll or can't find one (look at your local quilt shops!!) you can simply cut your own 2 1/2″ strips.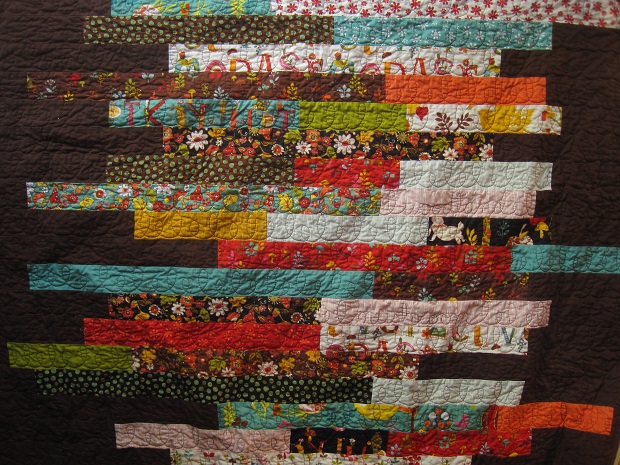 Grab your supplies and download your Urban Twigs pattern!
1 Jelly Roll
1 1/2 yards Background Fabric